About Wet2Dry Solutions, llc
Wet2Dry Solutions is a name to trust providing cleanup, mitigation, and restoration services for residential and commercial building owners and managers. Company leadership has more than 15 years of experience in the cleanup and restoration industry.
Wet2Dry: Our Guarantee for Quality Service
24/7/365 Emergency service – We are there when you need us
One (1) hour response gets you help faster
Maximum three (3) day drying, no matter the size of the loss
Five (5) year warranty provides confidence for the long term
Industry trained and certified personnel – people you respect
Focused on finding any unseen existing water damage – even though it may not be initially visible
Specialized equipment provides cutting edge techniques to dry your area faster
Monitored drying process and adjustments ensures the best and quickest method for drying
Insurance approved Xactimate estimating
Completion of required documentation including necessary mapping and psychrometrics
A commitment to minimal displacement of residents and /or personnel
Business interruption minimized resulting in less revenue loss
One Time, Done Right, Saving You Money
Wet2Dry Solutions prides itself on communication provided through comprehensive documentation, transparency and systems enabling us to respond to the unique conditions of your loss. Our exacting standards prevent you from having any secondary damage. You will save money and benefit from not adding unnecessary repairs. Solutions, right the first time.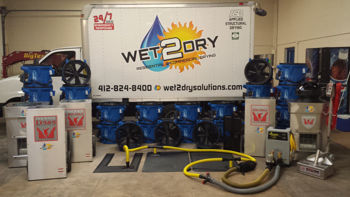 Wet2Dry Solutions specializes in mitigation rather than reconstruction. We do everything possible to restore, rather than replace, damaged structure and contents. We are experts at removing even the most difficult intrusive water damage and persistent smoke odors. We provide the kind of restorative cleaning required to return property and contents to pre-loss condition.
Wet2Dry Solutions has saved thousands of dollars for business owners, home owners and insurance companies. As a Professional Emergency Restoration Contractor with the expertise and capabilities you require, we restore the damage and mitigate further loss. You can have confidence that our team of professionals will quickly restore what is important to you. Expedience with execution is our standard.
We Can Handle It
Wet2Dry Solutions provides emergency mitigation services 24/7/365, setting a standard for exceptional reconstruction services. We have the expertise, equipment, and manpower to handle any type of property damage including losses due to:
Water Damage
Fire Damage
Natural Disaster
Trauma Cleanup
You will benefit from uniquely trained personnel and state-of-the-art equipment to meet your needs. Fast reasonable damage solutions are accomplished through dependability and the most up-to-date technology and education.
Heavy Duty Commercial Desiccant 385 Dehumidifiers
Commercial Phoenix 200 Max LGRS, Protimeters
HEPA Air Scrubbers, Phoenix Extreme Xtractors
High Velocity Forced Air Axial Air Movers
Commercially Engineered Power Generators
InjectDry Floor and Wall Systems
Prochem Truck Mounts
Property Restoration You Can Count On
You can count on our teams of expert professionals to return your residential or commercial property to its pre-loss condition as quickly as possible, so you can get your life back to normal again. There are numerous reasons why we are the first choice in Disaster Cleanup Services, most important being: we work hard to earn your trust.